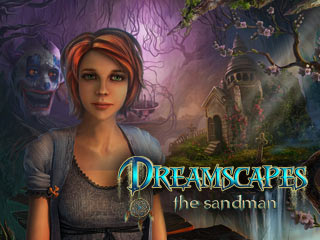 This game is Free. No time limits!
Datei Größe: 879.28Mb
Beschreibung
In Dreamscapes: The Sandman, a terrific hidden object game, you'll become a witness of the events taking place long before the accident with Laura's husband. Laura has a special gift: ability to enter the world of dreams. One day, the girl suddenly falls asleep. Nobody can awake her until mad professor Sanders comes up with an odd solution. He's invented a dream machine, and your task will be to get into Laura's dreams and defeat her nightmares. Play Dreamscapes: The Sandman free!
Features
Spielsprache: English
enthralling storyline
50 jaw-gaping locations
unique game world changing over time
charming assistant called Benny
16 cunning mini-games
over 50 3D movies and cutscenes
several exclusive game types
2 game modes: casual and advanced
system of achievements
stunning graphics
15 bonus locations with separate storyline
FREE thriller game
Systemanforderungen
OS: Windows 2000/XP/Vista/7/8/10
CPU: x86, 800 MHz
RAM: 2 GB
DirectX: 8.1 or later
Das könnte dir auch gefallen