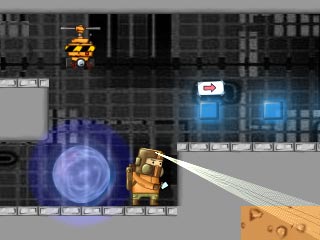 This game is Free. No time limits!
Datei Größe: 43.59Mb
Beschreibung
In Randomizator, a fine arcade game, you'll explore a scientific station where experiments on the movement of matter take place. Unluckily, something goes wrong and the powerful AI takes control of the station and locks scientists in one room. However, you've managed to escape and now your mission is to stop the AI and save your friends! An experimental suit with the ability to generate portals is at your disposal. Use it wisely while avoiding tricky traps on your way! Play Randomizator free!
Features
Spielsprache: English, Русский
encumbering gameplay
levels of varying difficulty
all kinds of traps
cool visual effects
dynamic soundtrack
FREE platformer game
Systemanforderungen
OS: Windows 2000/XP/Vista/7/8/10
CPU: x86, 800 MHz
RAM: 2 GB
DirectX: 8.1 or later
Das könnte dir auch gefallen