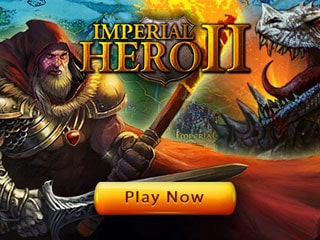 This game is Free. No time limits!
Description
The key genres of the game Imperial Hero II are role-playing and fantasy.
Having plunged into the game, you can go on an adventure with your allies.
In order to become a real hero, it will take a long and hard fight with different monsters and complete tasks that will pump up your skills. Play Imperial Hero II free!
Features
Língua do jogo: English
Classic gameplay, the characteristic feature of which is the graphics
Automatic turn-based MMORPG-style strategy battles
Take the side of a robber and a villain or follow the path of a worthy and brave warrior
Create various interesting and unusual products in order to sell to other players and earn money to improve your items
FREE online fantasy game
System requirements
OS: Windows XP/7/8.1
CPU: 1.8 GHz
RAM: 512 MB
DirectX: 8.1 or later