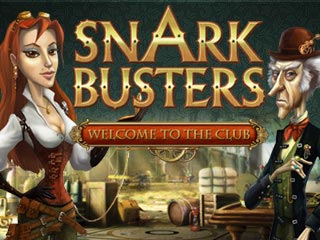 This game is Free. No time limits!
File size: 202.26Mb
Description
Em Snark Busters: Welcome to the Club, um jogo de aventura e objetos escondidos, vai encontrar-se numa realidade alternativa, ao lado de Kira Robertson.
Kira, a charmosa aventureira, viaja através de espelhos, em busca de uma misteriosa e esquiva criatura chamada Snark. Ajude a rapariga a investigar complexos labirintos de espelhos, e mergulhe num turbilhão de maravilhosas aventuras!
O fim do jogo promete ser absolutamente inesperado. Jogue Snark Busters: Welcome to the Club gratuitamente!
Features
Língua do jogo: English, Deutsch, Francais, Espanol, Русский
enredo de jogo intrigante
7 capítulos cativantes
30 localizações animadas
quebra-cabeças desconcertantes de objetos escondidos
minijogos emocionantes
gráficos "steampunk"
FREE jogo de aventura
System requirements
OS: Windows 2000/XP/Vista/7/8/10
CPU: x86, 800 MHz
RAM: 2 GB
DirectX: 8.1 or later