July Game Discoveries: in search of adventure. Part 2.
2013-07-31

Are you ready for another batch of adventures ? I hope you are, because this time you'll have to show what you're made of on ToomkyGames.com. A young fox cub has been kidnapped by aliens and needs your help in Sprill: The Mystery of The Bermuda Triangle. Then, join Gordon on his incredible adventure in Treasure Maters Inc. Once you're done, rest a little playing Match Gems Evolved. But don't let your guard down! Aaron won't bring his father back without your assistance in Aaron Crane: Paintings Come Alive. Check these games out and more in this game review.
Engage in these casual games full of mysteries, danger, and lost treasures. Whether you're in the mood for Hidden Object, Match 3, or Time Management games, this list of new titles should have a little something for you.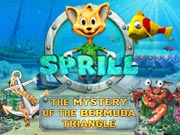 Sprill: Mystery of Bermuda Triangle
It turned out that the fox cub had been kidnapped by aliens. The extraterrestrials promised Sprill to let him go only after he found a magical artifact. Help the young fox make it back home! Learn more…
In one of the sunniest farm games your job is to manage an entire farm with 5 different plants: corn, bell peppers, tomatos, cucumbers, and sunflowers. Put your concern and diligence on display and your vegetable beds will make you rich! Learn more…
This delightfully engaging puzzle game, will put your brain on a pressure cooker! In your mitts are three bright, shiny gem balls and in front of you is a playing field. Learn more…
Welcome to the treasure hunters squad! Get ready to join Gordon Jones on his incredible adventure. Be cold-blooded, follow your intuition, and show the wits of a true detective in this free hidden object game! Learn more…
Aaron Crane: Paintings Come Alive
One day, Aaron Crane, the son of an artist who's recently mysteriously disappeared, finds a strange address on one of his father's paintings. He follows it to the venue and discovers something incredible: his father's pictures are coming to life! Learn more…
You can find me on Fасebook, Twitter and leave your comments, impressions, and suggestions.
Let's have a chat!
PC Games
Best Games
Free Games
Windows Games
Hot Games