October Game Discoveries: a Whirlpool of Casual Genres
2013-10-16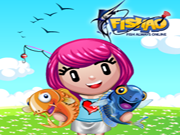 We're already halfway through October now. And I'm happy to present you with the other handful of first-chop games appeared on my free casual gaming portal. This time you should accomplish a true diversity of missions: from saving little critters in The Hedgehogs and seeking out artifacts in Gothic Masquerade to building your own medieval kingdom in King's Legacy and more with this game review!
Well, the variety of missions requires different tools and skills. Obviously, a smorgasbord of casual game genres awaits you here: from brain twisters and match 3 games to hidden object and strategy games. The zest of this game review is Fishao, the first of its kind MMO fishing game! Be sure to play them all and put your gaming skills to the test!
One day, a forest witch envied the hedgehogs' supply of nourishments and decided to steal them for herself. For starters, she's already put the hedgehogs away in prison. Salvage the industrious critters from the captivity of wicked witch! Learn more…
Welcome to the abode of ghosts, mummies, witches, and other evil spirits! But don't be scared: those otherworldly creatures are nothing more than the elements of atmosphere. They are almost harmless. The main thing is not to pay attention to them and just stick to your task. Learn more…
Mr. Beaver, a new wonderful neighbor, has settled in your house. The furry animal's bitten the water pipes in several places and left your house with no water! You'll have to solve a host of tricky puzzles and fit all the pipe pieces together. Show Mr. Beaver, who's the boss! Learn more…
In King's Legacy, a gripping strategy game, you'll have to build your very own kingdom in a shady corner of a magic forest. Houses, farms, stone quarries, and splendid castles arise out of the ground like mushrooms after a spring rain under your leadership. Learn more…
In this real time multiplayer fishing game you're challenged to catch over 150 different fish in 10 different unlockable areas related to the real world.
Customize your character, chat with other people around the world, meet new friends, compete in tournaments, complete both achievements and your fishdex and many more options!
Are you ready to play with thousands of other players in the world of FISHAO?
Find me on Fасebook, Twitter and let me hear your thoughts and opinions about newly published casual games!
Let's have a chat!
PC Games
Best Games
Free Games
Windows Games
Hot Games