ToomkyGames Celebrates 1st Anniversary!
2013-11-23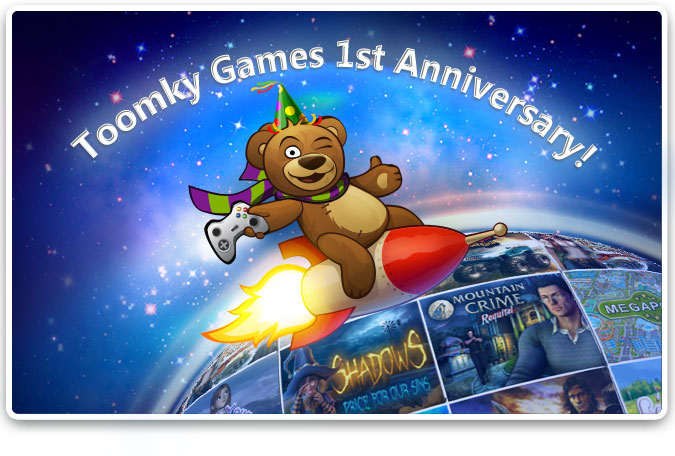 A year of outstanding game discoveries has passed! I just hardly believe it! And you? Next week I'm going to keep my B-day with some awesome giveaways and anniversary bonuses. Don't miss a unqie opportunity to celebrate with me! Go ahead and read more.
The very first year onstage is the most challenging and shows what you're made of. I've had my ups and downs and I'm grateful to everybody who has supported me and sent feedback that helped improve and develop new approaches in casual game discoveries.
I'd like to thank all of you guys for being with me this amazing year by releasing 3 most tremendous games I've specially tucked away for the occasion. Let me invite all of you to congratulate ToomkyGames on its b-day on Facebook, Twitter, and Google+ and find out what games will go live soon with a hashtag #tg1year.
Also I'd like to share with you the most essential improvements I've made this past year.
Toomkygames 1st year scoreboard:
– More user-friendly design adjustments with new enhanced pages;

– New genres added (Arkanoid games and MMO games)

– The website was translated into 5 languages (German, French, Portuguese, Spanish, and Russian)

– The total amount of absolutely full'n'free high quality casual games is 300+ titles.
And I'm still full of ideas and desire to put them into life thanks to your suggestions! Wait for more updates over the next year! Stay tuned! Follow the curious brown bear #toomkygames.
PC Games
Best Games
Free Games
Windows Games
Hot Games