ToomkyGames now available in French!
2013-05-28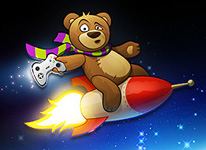 Salut, mes chers amis! Ça va? I've got recent news for you. I keep on seeking out new friends and analyzing opportunities. That's why, I've set out to translate my website on other languages as well as to ultimately meet the peculiarities of my worldwide audience and enrich my catalogue with new free games. Check it out!
I noticed one day that the scope of my friends is growing worldwide and many of them prefer speaking their native languages. That's why, I've set up my mind on making some prudent steps forwards for non-English speaking gamers. As the third step, I've decided to launch French version of my entertainment portal. It is available here www.toomkygames.com/fr.
The French game portal provides a huge variety of casual games allocated into 19 categories. All games on www.toomkygames.com/fr are accessible in full versions only, hence there are no time limitations. All website content is legally granted and 100% free of viruses.
I know you like playing free legal games, so subscribe to my free newsletter and be the first to find out about my latest updates: new game releases, weekly game reviews, contests info, promos, and other terrific memos!
You can find me on Fасebook, Twitter and leave your comments, impressions, and suggestions. Let's have a chat!
À bientôt!
PC Games
Best Games
Free Games
Windows Games
Hot Games