ToomkyGames wishes you a Happy Valentine's Day!
2013-02-13

Friends have the unique ability to turn your frown upside down and fill your days full of blossoms and rainbows. It's Valentine's Day – it's time to let your friends know how much you love them and care for them. So, let me pass on some special words to you, my dear friends, on this wonderful day!
Valentine's Day is a glorious day and it gets even more exciting when you receive gifts and gentle wishes from your loved ones. Anyhow, everyone has their own turn to pay your respect and show how much you care.
Well, now it's my turn, so let me congratulate you on St.Valentine's Day with all of my heart, because without your support my game portal wouldn't be what it is now!
Keep love in your heart. A life without it is like a sunless garden when the flowers are dead. The consciousness of loving and being loved brings a warmth and a richness to life that nothing else can bring. (by Oscar Wilde)
So love, be loved, and go play!
Check this pure Valentine's game – Puru-Puru Valentine's Shot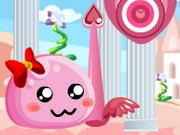 Try on the role of Cupid, shooting golden arrows into magic hearts! Learn more…

PC Games
Best Games
Free Games
Windows Games
Hot Games