Toomky's Top Free Tower Defense Games
2014-04-18

How would you feel if those who are in trouble pin all their hopes of deliverance on you? It's high time for you to check it in these game highlights! Firstly, travel back into the Middle Ages and defend a royal castle from the invasion of ruthless monsters in Royal Defense. Come back to present shortly and protect your military base from invaders in Toy Defense. After that, travel into the future and emerge victorious in a grand battle with aggressive extraterrestrial creatures in Steam Defense. And there's more to come!
Put your strategic thinking to the test and show your paces as you play these free defense games. And remember: "When we are near, we must make the enemy believe we are far away" (Sun Tzu, "The Art of War")
The castle civilians cry out for your help! Well, time for you become a hero. Remember: well thought-out military strategy works wonders. May your hand be strengthened by the power of righteousness! Learn more…
You and your friends have luck to find a new planet and start its settlement. However, it turns out that alien creatures are openly hostile towards newcomers. Fierce battles await you. Stay alert! You've got lots of dangerous and thrilling adventures ahead! Learn more…
A fresh pizza topped with thin slices of bacon and cheese covered with olives and tomato sauce – what could be more delicious? But annoying insects aren't averse to a good dinner as well: the annoying insects do everything to steal a slice of your pizza. Learn more…
The enemy has attacked your military base. But do not fear – the hour of triumph is at hand! Choose the appropriate types of weapon and allocate them in the places most vulnerable for the enemy. You will show your nemesis true Napoleon-like war strategy! Learn more…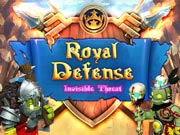 Royal Defense: Invisible Threat
Monstrous troll hordes have captured the dwarven kingdom again. All the dwarves are begging for your help! The secret of salvation is quite obvious: a well thought-out military strategy and a correct weapon placement will help you defeat the enemy at one stroke. Learn more…
I'm constantly seeking new awesome tower defense games for my game catalogue. Have any ideas? Find me on Fасebook, Twitter and tell me what's your favorite shooting game of all time!
PC Games
Best Games
Free Games
Windows Games
Hot Games