Toomky's Top Shooting Games vol. 2
2014-03-14

This time I'm calling you for saving the mankind from enslavement once again! The threat comes from both outer space and hostile terrestrial forces. Stand to your guns and engage combat in these game highlights. Get ready to repulse a tank assault in Tanks Evolution, keeping in mind an air attack raid in Shoot'n'Scroll 3D. After that, take your spacecraft and become a space piloting virtuoso in Invasion, fight back an alien invasion in Envoy, and help humans defend their freedom in Crusaders of Space: Open Range.
Last time you survived – what is going to be this time? Your stunning agility and quick-fire reaction are sure to help you overcome this rocky road! Hope you do possess them, otherwise these shooting games would be a hard nut to crack for you!
Enemy tanks are rolling in closer and closer, meanwhile you hear the sinister roar of fighter jets over your head. In front of you are countless enemy hordes, but your friends and comrades-in-arms have your back. The battle's gonna be hot. Learn more…
Your spaceship's come under a flurry of enemy fire. However, you have turned out to be a tough nut to crack for a vast armada of enemy aliens. Reign supreme in an epic space battle and fight back an alien invasion! Learn more…
The regular process of boundary air patrol in a military helicopter has turned into a nasty surprise for you. Enemy aircrafts have suddenly appeared in the sky one after the other. Bear for action! Learn more…
Real star wars await you in this mind-blowing shooter game! In the fathomless depth of space your spacecraft is caught in a meteor shower and comes under heavy enemy fire from all sides. Stand to your guns! Learn more…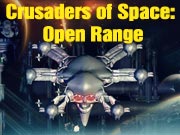 Crusaders of Space: Open Range
The Earth is in danger! According to satellite data, hordes of alien invaders led by Big Brain, the most horrific space pirate ever, are approaching the planet at a great speed. Make matchwood of alien invaders and help humans defend their freedom! Learn more…
I'm constantly seeking new awesome shooters for my game catalogue. Have any ideas? Find me on Fасebook, Twitter and tell me what's your favorite shooting game of all time!
PC Games
Best Games
Free Games
Windows Games
Hot Games