Top-5 Ghastly Games on ToomkyGames: it's hallo-scream!
2013-10-31

Boo! The spirit of Halloween is all around and now is a great time to go haunting! I bet you're already hanging out with your ghoul friends. On a Halloween night you're sure to have a fright playing TOP-5 ghastly games on my free entertainment portal. Outwit all the evil spirits on your way in Spooky Mahjong and get sweets from the ghosts in Fill and Cross: Trick or Treat! Control the forces of darkness in Vampires vs. Zombies and more eerie missions in this game review.
Trick or treat! Play these free spooky games full of mysteries, evil spirits, witches, and sorcerers and enter into the spirit of Halloween!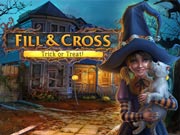 Fill and Cross: Trick or Treat!
Trick or treat! Today you have a unique opportunity to remember Halloween night! Are you afraid of ghosts? Can you get a lot of tasty candies faster than your friends? Guess all the pictures and win many unusual trophies! Learn more…
Unforgettable adventure waits you in Holiday Jigsaw! Start your journey with a mystical Halloween! Learn more…
A whimsical pyramid of tiles is stacked on a table in front of you. Each of the tiles features witches, ghosts, or other evil spirits. But you're hardly scared, you're terribly interested, aren't you? Dive into the world of wicked logic puzzles in this haunting mahjong game. Learn more…
Your friends stumble upon an ancient artifact that opens a portal to the underworld and become captured by the Lord of Darkness. But do not fret! Your top concern is to unravel the mystery of an abandoned house and find your missing friends! Learn more…
Zombies have seized power over the world. The dead assail metropolises and cities. Only the strongest one can fight back a zombie invasion – the strongest vampire! Use your profits to create incredible, magic weapons and free the world from zombies! Learn more…
Join me on Fасebook, Twitter if you dare for a Halloween scare!
Have a bootiful Halloween!
PC Games
Best Games
Free Games
Windows Games
Hot Games