TOP-5 September Games
2013-09-29

If you visited the ToomkyGames website this September, you may have noticed that some alterations have been made to my free entertainment portal. Among them there are renewed game release days and new free-to-play MMO games. I hope you enjoy the updates. Sure enough, I've prepared a fresh pick of memorable games to tickle your fancy. This time you'll try on the role of a railroad tycoon in Railroads of America, a true detective in Hideaways: Foggy Valley, and a brave rescuer in Rescue Frenzy. Check out these free games and more with this game review!
The following titles offer plenty of gameplay variety: from arcade games to hidden object ones. Each game requires different skills and abilities, so make sure to play them all – they're really worthwhile!
Imagine: you are the owner of the world's longest railway. Once, it used to be the pride of America. Why not revive its former greatness? It's just a matter of honor for you! Start up your own railroad company and become a railroad tycoon! Learn more…
Dark labyrinths of abandoned buildings, high hills, and forest thickets silently keep the secrets of their former inhabitants. Secret nooks and crannies with a host of cleverly hidden items – what more could detectives ask for? Learn more…
In Rescue Frenzy you will learn how to guide a team of courageous rescue workers. Daily exploits are your true vocation! Saving people and animals from earthquakes, floods, and other disasters is not an easy matter. Learn more…
Dominic continues traveling between the fantastic worlds of his dreams. In one of them he meets his sister all grown up. She got lost many years ago when she was a little girl. Help Dominic find his missing sister and discover the mystery of her disappearance! Learn more…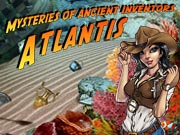 Atlantis: Mysteries of Ancient Inventors
Together with Anna the archeologist you embark underwater in search of the ancient treasures of sunken Atlantis. Find the path to them and uncover the key to the mysteries of the universe! Be extremely cautious and alert! Learn more…
Find me on Fасebook, Twitter and let me hear your thoughts and opinions about newly published casual games!
Let's have a chat!
PC Games
Best Games
Free Games
Windows Games
Hot Games