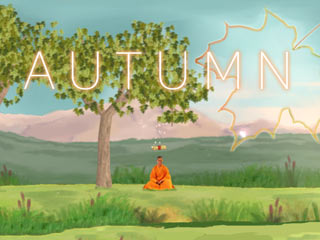 This game is Free. No time limits!
File size: 39.11Mb
Description
Autumn is a beautiful and calm strategy game with lots of relaxing puzzles.
At first, you choose between three spirits: Kinnara, Yaksa and Siddhi. The main task is to expand your territory.
You can do it by «knowing» a tree – just left-click the orb at the top of the plant to add it to your chest. Then you can plant a tree and get through the white barrier. There are many relaxing tasks and puzzles as you progress without enemies or goals. Just calm down after a long day. Play Autumn free!
Features
Game language: English
Calming and meditating music
Tons of inspirational reading material – quotes and teachings
Wonderful hand-drawn arts
No time limits
Soothing atmosphere
FREE indie strategy game
System requirements
OS: Windows 7/8/10
CPU: x86, 800 MHz
RAM: 2 GB
DirectX: 8.1 or later