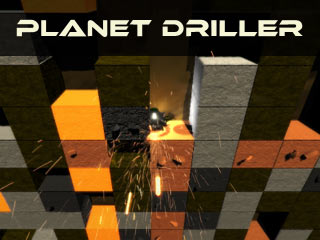 This game is Free. No time limits!
File size: 46.99Mb
Description
Planet Driller is a 3D action game where you play as a mining machine.
Your primary goal is to find Dark Matter to save planet Earth. Drill blocks and try to go as deep as you can.
There are a fuel station and a shop to buy upgrades. You earn money by selling resources that you had excavated. Play Planet Driller free!
Features
Game language: English
Random world generation - it is created procedurally as go deeper into the planet
Exchange expensive minerals to earn money
Get upgrades to increase drill speed, expand fuel tank and earn other characteristics
Old school MIDI soundtrack
FREE 3D action game
System requirements
OS: Windows 7 and above
CPU: Intel Pentium D or AMD Athlon 64 (K8) 2.6 GHz
RAM: 1 GB
DirectX: 10 or later