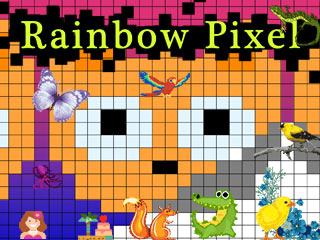 This game is Free. No time limits!
File size: 35.78Mb
Description
Rainbow Pixel, a fascinating logical game, is a great opportunity to relax and unwind after a busy day. Motley images by numbers and collect your gallery of bright emotions. Quickly cope with the puzzles with interest and enjoy the exciting process!
A little tired? Here you can save your progress at any convenient stage! Simple controls, a lot of tips and tools will create a passion even more comfortable.
Rainbow Pixel is suitable for both beginners and real professionals in the genre of logic games. In addition, you will also plunge into sparkling rays of the rising sun, amazing landscapes, cute animals, various treats and this is not all! Play Rainbow Pixel free!
Features
Game language: English, Русский
120 puzzles
ability to change the background color, cancel the move, and use a magnifying glass
option to save and then continue the process of collecting puzzles at any stage of the game
relaxing music
FREE nonogram game
System requirements
OS: Windows 2000/XP/Vista/7/8/10
CPU: x86, 800 MHz
RAM: 2 GB
DirectX: 8.1 or later