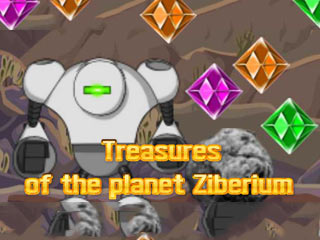 This game is Free. No time limits!
File size: 83.3Mb
Description
Treasures of the Planet Ziberium is an adventure of a controlled robot that was flown to the planet Ziberium to mine valuable, precious diamonds.
Sounds quite simple and straightforward, right? What is the catch? You have to be careful!
Your evil and malicious competitors and the creatures from this planet will try to stop you. The robot can dig soil, hack through rocks, and is also equipped with an antigravitational device that affects stones. Play Treasures of the Planet Ziberium free!
Features
Game language: English
20 amazing levels with digging, creatures, and most importantly diamonds!
Use your equipment to fight off the bad guys!
Nice music
FREE adventure game
System requirements
OS: Windows 7/8/10
CPU: x86, 800 MHz
RAM: 2 GB
DirectX: 8.1 or later