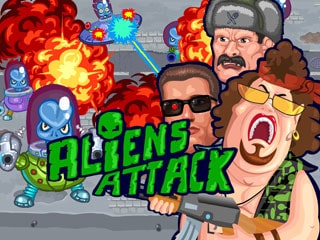 This game is Free. No time limits!
Description
Aliens Attack evokes nostalgia for old space shooters. But unlike the classic arcade, here you will not be given a fighter to fly on, but a crazy hero, ready to give his life for saving the world.
The first available hero is Remdo (reminds someone), but by killing aliens and raising the rating, you will unlock new heroes. Invaders are not so simple, most of them need more than one shot to die. No time to relax.
Juicy graphics and inspiring music. The playing field is in constant dynamics. If you get distracted for a second – an alien bullet can bring to finish your adventures. Be ready to fight the boss between the alien waves. Play Aliens Attack Free
Features
Langue du jeu: English
Choose the hero you want
Save your records
Put the game on the pause at any moment
Enjoy cunning enemies
FREE sci-fi shooting game
System requirements
A wired or WiFi internet access